by Lauren
Since my big move, I have been busy trying to get my life/house in order.  So much of my furniture needs to be replaced and obviously this is a process.  I am trying to be as deliberate as possible about each purchase so I dont tire of the pieces and so the design is exactly as I want it.  I have spent the majority of my time on the living room (post forthcoming), but am really excited about the headboard I am making for my bedroom.  I recently discovered a love for Otomi fabric.  Otomi is a bright, hand embroidered, Mexican fabric that depicts Mexican farm animals.  Here is a pretty good example —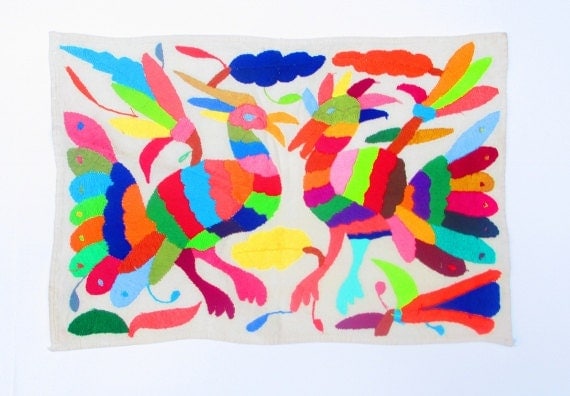 I had pretty much decided that I want my room to be bright blue and an orchid lilac… so I became fixated on finding a blue Otomi fabric.  After googling to the bottom of the internet and back, I finally found a swatch.
So this is step 1 in the bedroom makeover!  Otomi headboard… and if it isn't animal overkill (that part is TBD), I am going to incorporate a patchwork cowhide rug in a pale camel —
To balance all of the animal elements, I am going to try to do some soft, feminine furniture – a dresser, nightstand and maybe a white love seat…but that is all TBD!